Welcome to BohoSugarB! 
Peace and Blessings! I would like to start off by thanking you for taking the time to read this and check out my shop.  Bohosugarb started out as a creative outlet for me (Mrs. B).  I have been an artist most of my life.  I paint, draw, sculpt and make jewelry.  Here't the thing, jewelry making is my newest skill.  I have only been making these pieces for a few years. I stumbled on the skill while trying to find a practical way to "carry" my crystals and make matching earrings for a dress I needed to wear to a wedding.  
I had a beautiful wedding to go to and I needed some earrings to go with my dress.  I really had a clear idea of what I wanted to look like- you know a clear image in my head. I searched Etsy, Amazon and about 50 of my favorite websites for the perfect earrings.  No luck.  Looking back on this experience I'm sure I became slightly obsessive over finding just the right earrings.  Just when I had all but given up I saw a youtube video explaining how to make earrings out of polymer clay.  Flashback to middle school when I left the art room crying because I was failing at my clay assignment. I hated it. Clay absolutely made me feel like a failure and I hated it because I loved playing with it and manipulating it but I hated what I ended up with...every time. Could I make my own earrings? I decided to give it a try. I made my way to the nearest craft store, sat down in front of YouTube and began working.  5 hours later I had what I thought was the perfect pair of earrings for the wedding.  I loved them. They were flawed and nowhere near perfect and definitely took way too long but I loved them. More than my love for the finished product was my love for the process.  I really enjoyed working with the clay. My mind was suddenly full of hundreds of ideas.  After numerous compliments and inquiries about my unique earrings I decided to share my art and open an etsy shop.  
Years later after some success with my earrings I started to look at my crystal collection. It was growing, growing fast.  I soon had crystals all over the house. Some for attracting love, some for money and some for emotional balance.  They were EVERYWHERE.  I wanted to carry them in my pocket or try wearing one in my sock but to be honest none of these ideas seemed practical.  I went to my local crystal shop where of course by now they knew me by name, and asked what's the best way to "wear" crystals.  I was directed to the aisle in the store that housed cages.   I searched carefully for a cage I liked.  I picked up a few and examined them closely but I couldn't shake the feeling that they were just not original.  They were nice but they were manufactured.  I could very easily spot this type of cage around another person's neck at my favorite music festival or even the grocery store.  Somehow the idea that this cage would hold the crystals that I love made me feel like I wanted this cage to be as special as the crystal in it. "I can make this" I thought to myself.  A few weeks later I had hand wrapped a clear quartz and set it on a long chain.   I had a concert to go to. My outfit was all black and I needed a cool statement piece to wear with it.  Something long and dramatic but still pretty.  My quartz! It was perfect. I received compliments on it all night not to mention my energy was balanced and light throughout the night. If people loved this one maybe I should add one to my shop.  I decided to make a "test necklace" just to see how it would do and if people would buy it.  I wrapped a beautiful Obsidian stone and named it after my mother. Not only did my mother love it but it sold in 3 days.  I made more and more and more.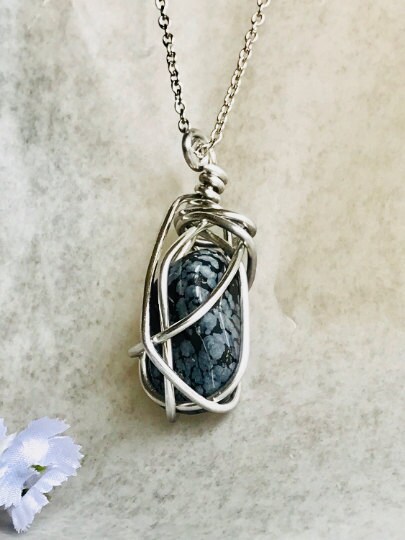 Angela - My first sold Sugar Crystal Necklace :) 
Each sugar crystal is treated with the same process I use for my own crystals.  They are given a sage "bath" ( smoke) and set out in the sun for a few hours for charging.  Each sugar crystal necklace or earrings comes with charging or "intention setting" instructions to help you bond with your new crystal and get the most out of its properties.  
Over time many of my customers have reached out to me telling me about how much the crystals have helped them find love, get promotions, heal emotional wounds and make them feel good.  While I would love to take credit for such an amazing outcome I can not. People buy the crystals that speak to them, the ones they love or feel a connection to when they see them.  Some people buy them because the name ( all feminine or unizex names) hold significance for them.   It's truly the owner who makes the crystal "work".  I simply provide a clean and beautiful vessel for your intentions.  Whatever your reason for your interest in my shop and products I want to thank you for sharing a little joy with me. I love making these pieces. Thank you again!